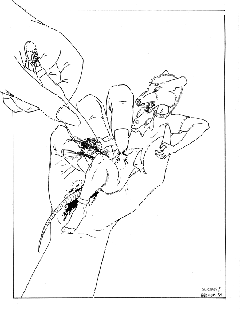 I bet that hurts!
This is supposed to be an opossum, not
a vampire rat... Poor little guy!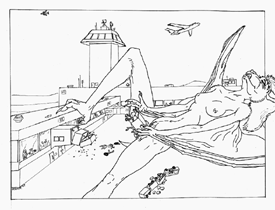 Now boarding at gate 4!
I'm not to sure about the way this one came out...
But at least I got another bat picture up! >;)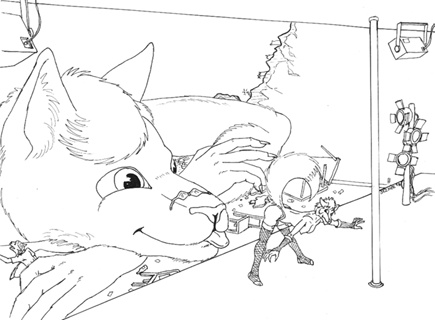 Being a giant means no cover charges!
Or cover at all after they rip off the roof!
Giants are jerks too and hardly ever tip!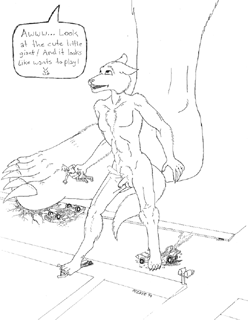 UH OH!!!
Rampages are good fun until someone bigger then you shows up and shows how size can relevant! I mean look at that foot! That giant probably isn't interested in the little buggers the wolf is playing with at all!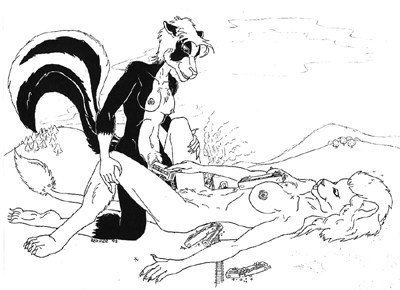 Yeah! Yeah! Wreck that train!
The artist doesn't like trains. ;)
They're always blocking the road so his car has to wait! At least this one won't and is being put to good use too!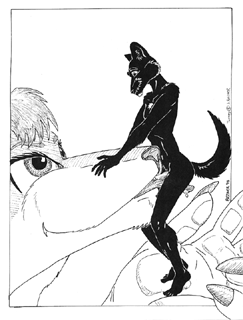 OH NO! Torrey is caught!
He doesn't look as happy about it as the raccoon on the "general"
art page but none the worse for it so far.
[blush] I kinda like this one... I didn't really use detailed pencils but added the detail while inking. It just turned out.. better to me that way.